16 Aug

Fantasy Football: 3 Round – 10 Team PPR Mock Draft
FANTASY FOOTBALL: 3 ROUND – 10 TEAM PPR MOCK DRAFT
So Le'Veon Bell got you down? Remember when he was jet-skiing in September while you were shuffling to the wavier wire to add Wendell Smallwood? Remember when he had the audacity to say draft him number one overall after denying your 2018 compensation Venmo request?

(Image by TMZ Sports)
Because neither do I! It is a new year of Fantasy Football, which means we are leaving all the wins, losses, and heartbreaks in the past.
To avoid another early draft decapitation, AROSE Online is here to prep you with Mock 1.0.
ROUND 1
The Chalk Picks
1. Saquon Barkley
2. Christian McCaffrey
The first round is not a time to get cute. Barkley looks destined for a massive workload. It would shock no one if he leads the league in carries after he was second behind Zeke Elliot in his rookie campaign. In a year where the Giants may have to sign and convert Bobby Boucher into a two-way player, there are worries he may face stacked fronts with limited weapons around him. Worry no more, If Barkley declines from his 5.0 Yards Per Carry (YPC) to the league average in 2018 (4.42 YPC) he will run for over 1100 yards. Add in that the Giants projected strength-of-schedule (SOS) is tied for 27th in the league you can expect top 10 and 15 finishes in touchdowns and receptions, respectively.
Michael Thomas, Jarvis Landry, Odell Beckham Jr., Christian McCaffrey. What do these players have in common? Each player is in the top 5 from most receptions (187+) through there first two seasons. What don't they have in common? One of them is a running back! In just his second season, McCaffrey has broken the NFL Running Back record for receptions (which he will probably break this season). Not to mention he has reportedly added muscle for better durability and the Panthers coaching staff has said they want to give him more touches (as if 326 touches wasn't already enough) and fewer decoy snaps. Did I forget to mention he also ran for 1100 yards? Run CMC should become the 68th player in NFL history with over 2000 yards scrimmage yards in single season.
The Three Musketeers
3. Ezekiel Elliot
4. David Johnson
5. Alvin Kamara
Wide Receiver is the deepest position in fantasy this year. That is why 3 more running backs round out the Top 5.
Known as Zeke to most, Eze to some, and the fastest Ewok in the galaxy to none, he is an obvious candidate to come off the board at 3. In 2018, Elliot lead the league in rushing while almost doubling his career average in receiving yards. The contract situation is no issue because 1. I believe he will sign once Dak's contract is settled and 2. in 2017 Zeke missed six (6!!) games and still was the 12th best running back in fantasy. Whether paving a way to victory on Endor or the gridiron, pencil him in 280+ carries and double digit touchdowns.
The David Johnson over Alvin Kamara pick comes from a few reasons.
Alvin Kamara was a Top-2 fantasy option exploding for two 30+ point performances in the first 4 weeks while David Johnson struggled for most of the season alongside terrible QB play. However, during weeks 5-17, after the return of Mark Ingram from a 4 game suspension, only 19.6 fantasy points separated the two running backs. With Mark Ingram shacking up with the Millennial Mike Vick in Baltimore, people are dreaming of the possibly Kamara getting 250 carries. Before we imagine that fantasy lets play a name game…
Time Frame: 2015-2018
Player A: 43 Games Started, 3581 Rushing Yards, 30 Touchdowns
Player B: 45 Games Started, 3274 Rushing Yards, 32 Touchdowns
Player A is former Saints running back Mark Ingram, Player B is current Saints running back Latavius Murray. If there is two things I know in this world, it's that Phillip Rivers WON'T use contraception and Sean Payton WILL use multiple running backs. So until I see it I am not convinced Kamara has the same ceiling as DJ.
David Johnson is only 2 years removed from a 2100 yards and 20 TD season. He now is working behind an upgraded offensive line and alongside an impact quarterback. Head Coach Kliff Kingsbury was quoted saying, "David Johnson, we think in our offense — throwing the football, running the football, the way we're going to use him — is going to have a phenomenal season" (via Cardinals Flight Plan). DJ has been fantasy's top running back before and I will take the gamble on the surefire workhorse than the Déjà vu situation in New Orleans.
6. DeAndre Hopkins
Nuk's Totals with Deshaun Watson: 23 games, 160 Receptions, 2178 Yards, 18 Touchdowns.
Not only is D-Hop your first receiver off the board, he has recently been voted to AROSE Online First Team All Dreadlocks alongside Melvin Gordon, Stephon Gilmore, Lil Wayne and Whoopie Goldberg.
Outstanding preseason from the All-Pro.
7. Davante Adams
There is nobody more normal in the NFL than Davante Adams.
The only difference between him and I is the guy just loves Touchdowns more. The only player with more TDs (39) then Adams in the last 3 years is Mr. Big Chest himself, Antonio Brown. Being the only viable receiver in the Packers offense he should enjoy his 4th straight year over 10 TDs.
Nice one Davante! Absolute Electric Factory!
8. Odell Beckham Jr.
OBJ Career Stats with Natural Hair: 0 Receptions, 0 Yards, 0 TDs, 1 Arthur meme.
You can't spell "d(e)bi(li)tated" without Eli. Debilitated is exactly what the Giants passing offense was last season and despite only playing 12 games, he was a top-15 PPR receiver with a 16-game pace of 103/1400/8 TDs. Don't let the above stats fool you, I want a first-class ticket on the Baker/OBJ training camp hype train. His 2015-2016 seasons averages, 99/1408/11.5 TDs, are not out of the question making him a top 3-4 fantasy option at the position.
9. Le'Veon Bell
"hOw cAn yOu bAsH Le'vEoN In tHe oPeNiNg pArAgRaPh aNd sTiLl hAvE HiM InSiDe yOuR ToP 10?" Because it's my f**king blog.
Ignoring 3 weeks Bell was suspended in 2016, he was fantasy's #1 RB (Total points) through the 2016 & 2017 seasons. Lev never missed a beat after two knees injuries and suspensions. The guy has averaged almost 25 touches per game for his career and people are trying to say a year of REST will HURT his production? I'm not buying it.
Bell, only 27, should experience career lows in yards per carry and catch until Darnold can establish a deep game.  However, The Jets currently have the 7th easiest schedule vs. the run and Bell provides the young QB with an elite safety net for dump-offs. With improved play from Sam Darnold and Bell being out to prove something, there is top-5 PPR upside here.
Fun note: He matches up with the Steelers @ The Jets in the Fantasy Championship (Week 16)
10. Julio Jones
Julio Jones wants 3,000 yards . . . this season
My prediction: 2869 Yards, 2 Touchdowns.
ROUND 2
11. James Connor
(Previous Pick: Julio Jones)
Coin Flip between Connor and Mixon. Connor in a full season will push for 65+ receptions and is running behind a much better O-Line.
12. Michael Thomas
(Previous Pick: Lev Bell)
What does the most career catches through 3 seasons get you?
Harrison Barnes money.
With Lev Bell being the previous pick, this lineup is First Team Bag Getters. Lock Thomas in for 110 catches, 1300 Touchdowns and 8 scores.
13. Joe Mixon
(Previous Pick: OBJ)
Mixon is my dark horse to lead the league in rushing. His 83.4 rushing yards per game ranked only behind Todd Gurley and Zeke. Mixon would have easily cracked my top-11 picks if not for training camp injuries to A.J. Green and 1st round pick LT Jonah Williams. You heard it here first though when he runs for 1400 yards and 12 scores.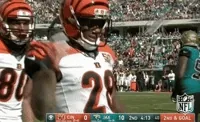 14. Nick Chubb
(Previous Pick: Davante Adams)
Nick Chubb is just the kid that was bigger than everyone in youth football all grown up. He runs extremely hard, but there is a major concern in PPR leagues when you have Antonio Brown's feet for hands. On yardage and touchdown upside he cracks my top-15, but 31 career receptions at Georgia and 20 in his first NFL season are a red flag.
Kareem Hunt is suspended 8 games, is learning a new play book, will not have played in over a year, and has already dealt with a groin injury. I'm not worried about him, Ride Chubb all Sunday long.
15. Dalvin Cook
(Previous Pick: D-Hop)
He may have not had made First Team all Dreadlocks alongside his fantasy teammate D-Hop, but there is no denying Cook's upside. With a career average of 4.7 YPC, Cook could be a premier fantasy option with a full workload.  League Winning talent if he can stay on the field.
16. Travis Kelce
(Previous Pick: Alvin Kamara)
In his first season with Mahomes, Kelce set career numbers for receptions, yards, and touchdowns. There is no better feeling that being able to slot him into your lineup and know your winning that position battle 90% of the time.
If you ranked Kelce with the WR's he was fantasy's 7th best wideout. Not mention he an absolute man rocket. I expect nothing short of 95/1100/10.
17.  Tyreek Hill
(Previous Pick: David Johnson)
Known for avoiding defenders, but not the law he falls behind some of the more consistent receivers due to his ability to disappear (CC The 2018 Fantasy Playoffs).
Cheetah also set career highs across the board in 2018. I expect the receiving TDs to regress on account of Mahomes not throwing 50 scores again, but he should hit 85/1250/8 with relative ease.
18.  Todd Gurley
(Previous Pick: Zeke Elliot)
With a stud RB rostered and high profile WRs like JuJu, Keenan Allen, Mike Evans, Antonio Brown, and T.Y. Hilton still available in the early 3rd round, it's time for the high risk/high reward pick Todd Gurley.
Coach McVay has already spoken about TGIII receiving less than his normal 85%+ workload. For argument's sake, let say his snaps go down to 65%.
Over the last two season Gurley has averaged:
1278 rushing yards, 61.5 catches, 684 receiving yards, 20 total TDs
65% of his averages: 830 rushing yards, 40 catches, 450 receiving yards,13 total touchdowns, 246 Fantasy Points.
246 FP would have been the 10th best running back in Fantasy last season. This is why he is coming off my board at running back 11. Does Gurley have a chance to outperform a 65% average? Of Course. Could he be drafted higher? No doubt. But with a banged up knee and the Rams having plenty other weapons there is reason to proceed with caution.
19. JuJu Smith-Schuster
(Previous Pick: Christian McCaffrey)
Does it bother me that he probably wishes he could switch careers with the 16 Year Old who just won the Fornite World Cup? You bectcha.
I want my WR1 on the football field, not in the fatal fields. I want him building off each route, not building his virtual clout. Gaming aside, JuJu has never only once disappointed his owners on the football field.
Coming off a monster year, hes locked in as the number one threat in Pittsburgh. There may be a bit of a learning curve if the Steelers move him out of the slot more, but count on WR1 production again.
20. Mike Evans
(Previous Pick: Saquon Barkley)
Mike Evans set career highs with 17.7 yards per catch and a 62.3% catch rate in 2018. Now with Desean Jackson and Adam Humphries off the team there are 150 targets up for grabs. Evans, 138 targets last year, could see closer to 170 this year. Last time he received 170 targets: Career highs of 96 catches, 12 touchdowns. Keep his 2018 efficiency and you could be looking at Fantasy's number 1 receiver, providing Jameis Winston doesn't melt down.
ROUND 3
21. Antonio Brown
(Previous Picks: Saquon Barkley, Mike Evans)
He's a future Hall of Famer, but in a new system for the first time in his career. He's off to an ice cold start after reportedly injuring himself by not wearing proper footwear during cryo-therapy. As long as he plays 16 games, Mr. Big Chest (MBC) is too good to be held down. 90 catches, 1100 yards, 8 Touchdowns seems like his floor. Jon Gruden is in for a massive stroke when MBC breaks this back out.
22. Keenan Allen
(Previous Picks: Christian McCaffrey, JuJu)
This is the year Allen finally has more touchdowns than Phil Rivers has kids (9). The emergence of Mike Williams and the return of Hunter Henry along with a tough schedule (5th Hardest) is a concern, but draft him with confidence as a Low-end WR1, High-end WR2.
23. T.Y. Hilton
(Previous Picks: Zeke, Todd Gurley)
Luck is my preseason MVP pick and Hilton is his favorite receiver. A model of consistency and efficiency, T.Y. was 6th in the league in yards per game in 2018. Health has always been a concern for Hilton, but if he stays on the field hes a top-12 fantasy wide receiver. 
*Note: T.Y's value drops to early-to-middle 4th round if General Andrew Luck misses significant time.
24. Zach Ertz
(Previous Picks: David Johnson, Ty Hill)
I expect the see some regression in receptions (2nd in the league in 2018) with Alshon Jeffery healthy and Desean Jackson back. Man rocket, TE1, Wentz favorite target. Travis Kelce Jr. should have another great season.
25. Melvin Gordon
(Previous Picks: Alvin Kamara, Travis Kelce)
I'd hesitate to draft Gordon unless you have two low risk, sure fire talents on your roster. There is no time table for his return, but at the middle-to-end of the 3rd round you have to jump on a guy that is top-10 worthy. Reaching for Austin Eckler is an absolute priority in the 6th round.
26. Leonard Fournette
(Previous Picks: D-Hop, Dalvin Cook)
Lighting up training camp and receiving rave reviews I have no problem if Fournette is taken even higher than pick 26. He is improving as a receiver and is a candidate to lead the league in touchdowns if he stays on the field for 14-16 games. In a make-or-break year, Fournette is in for a monster season.
27. Damien Williams
(Previous Picks: Davante Adams, Nick Chubb)
His 5.1 YPC in 2018 is a positive sign and every starting running back under Andy Reid has had major fantasy value. Williams has yet to have over 50 carries in a season during his 5 year career so we will have to see how he can handle a full workload. But in a Pat Mahomes offense, the upside is so-so high.
28. George Kittle
(Previous Picks: OBJ, Joe Mixon)
*Copy and Paste Travis Kelce/Zach Ertz statistics* *Subtract 5%*. Kittle slips to the end of the 3rd round because we haven't seen him exploded with Jimmy G under center yet. Per game numbers in 2018 with Jimmy – 4 catches, 63 yards, 0 Scores. I expect him to lose a few targets to Dante Pettis and 2nd/3rd round picks Debo Samuel and Jalen Hurd. Kittle will still be the number one option and should find himself with 70+ catches, 1000 yards, and 6+ scores.
29. Amari Cooper
(Previous Picks: Lev Bell, Michael Thomas)
The Andrew Wiggins of football, do we know if he actually likes to play or just plays because he's really good? Cooper produced 46 yards per game in 6 games with Oakland compared to 80 yards per game with Dallas. He has yet to have over 7 touchdowns in a season. There is no denying his talent, but does he have the motor to put it together for 16 games? 80 catches, 1100 yards, 6 scores.
30. Adam Thielen 
(Previous Picks: Julio, James Connor)
AT looked like a sure fire top-5 pick through 8 weeks of the 2018 season. However after the bye week he averaged 56 yards per game and only scored twice. Thielen is still a high-end WR2, and if he plays anything like his unearthly performances in the early 2018 season he will be a league winner.
here you have it. The correct order on how you should draft the first 3 rounds. No need to deviate, just start your leagues draft in the 4th round.
https://www.instagram.com/thereallp9/
https://twitter.com/The_Real_LP9